Save Money on Newer Apple Products
With the release of so many new devices by Apple yesterday, the idea of dropping $1,500 on a new shiny computer or iPad might be tempting. However we at iRevive want to make sure you get the best bang for your buck, which is why this week for Talkin' Tuesday we are going to go over some tips for getting the right device at the best price.
New Products Announced
Yesterday, June 5th, Apple held their annual WWDC (World Wide Developer Conference) where Apple announced a lot of hardware upgrades and remodels. A new iPad Pro was announced with a 10.5″ display, 20% larger than last years 9.7″ model. Along with it, Apple launched a new iPad called…."iPad." Fun tidbit, this is that 3rd time Apple has rebranded a new version of the iPad as "iPad." iPad is the same size of last years iPad Pro model at a 9.7″ display. The major difference between the new iPad and iPad Pro is the Pro part. The iPad has less processing power than the iPad Pro which in turn makes this device much more reasonable in price. Apple also revealed some pretty good upgrades made to last years MacBook Pro with touch bar and iMacs, and featured a major new computer branded the iMac Pro that starts at $5,000. And last but not least Apple revealed the long awaited competitor to Google Home and Amazon Alexa called HomePod which is a smart home assistant just like its competitors.
You can watch a synopsis of yesterdays announcements in this video.
With all these releases of new laptops, desktops, and iPads, many people are quick to pull out their credit card and pre-order these new devices from Apple's website. Understandable, however this moment is the perfect opportunity to look into purchasing a last year's model! Just like a brand new car on the lot of a car dealership, these newer models are overpriced and devalue a couple hundred dollars the minute you take ownership of them. Last year's models have just taken a great drop in price which will ultimately save you money!
Apple Certified Refurbished Models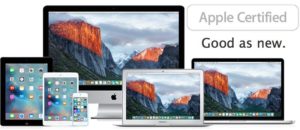 Apple has a page on their website dedicated to selling refurbished devices from iPhones to iMacs and it is a great source to find a great deal. Being that Apple is the company refurbishing these devices to be like new again, all refurbished models instantly come with a 1 year warranty. Refurbished laptops and iOS devices are just as good as new devices and cost a couple hundred dollars less than one purchased straight from an Apple Store. And when a discount this good is compared to the price of the brand spanking new models that were just announced, you truly begin to see where you are getting the best value from. The link to Apple's Refurbished Site can be found here. 
https://www.apple.com/shop/browse/home/specialdeals
Amazon Certified Refurbished Models
Another great source for getting a refurbished Apple device is Amazon. Amazon sellers strive to maintain reputable credibility and most sellers strictly deal with honoring a great warranty. When purchasing a used or refurbished device, it is always important to make sure the seller is offering at least a 6 month to 1 year warranty, that way in the event that something has crashed due to not being inspected by the seller, the seller is then liable for any repairs, saving you money and giving you a piece of mind. Here is a link to Amazon's Certified Refurbished Page. 
https://www.amazon.com/Certified-Refurbished/b?node=12653393011
Refurb.me Refurbished Listings
Refurb.me is a website used for finding 3rd party sellers of refurbished Apple Products. Their site is set up so you can find the exact device you are interested in and lists who all you can purchase that device from. These sellers include Apple and Amazon and provide a direct link to their site for purchasing the product you desire. Being a directory site, this site is only recommended for users who know exactly what they are looking for. When purchasing from a 3rd party seller other than Apple or Amazon, BE VARY CAREFUL and make sure the seller honors a 6 months to 1 year warranty. Purchasing a refurbished device from a 3rd party seller can be risky if you are not reading all the fine print in their listing, so be very careful and read everything. Here is a link to the directory site refurb.me 
https://www.refurb.me/en-us
 (Advanced Users Only)
Bottom Line
By purchasing a refurbished product directly from Apple, you can save up to a couple hundred dollars and get the same benefits you get with a brand new Apple product, including a guaranteed inspection process and a 1-year warranty. You may save more cash purchasing a refurbished machine from a third-party retailer, but do so with caution — there's less protection if something goes wrong.
iRevive is a smartphone and computer repair company that specializes in Apple/Macintosh devices in Greenville, SC